At least one author of each accepted abstract (paper) must register on or before 31 October 2022 to present his/her work in ICFME 2022. The listeners (without submission of abstracts/ papers) can also register for the conference. 
How to register
Step1: Participants should pay the registration fee according to their category (see the registration fee table below) and be ready with payment receipt (Pdf/jpg format).
Step2: Now open the Google Form online Registration Link:
https://forms.gle/L32ji2aWDTNAczjH8
Step3: Fill in the required details in the google form and attach the registration fee payment receipt and submit.
You will receive an acknowledgment via email once your registration is confirmed.
Registration Fee*
Category of Participants
Standard fee
Before 31st October 2022
Late Fee
After 31st October 2022
Student/Postdoc
5000 INR
7000 INR
Faculty/Scientists/Others
8000 INR
10000 INR
Industry Delegates
15000 INR
20000 INR
International Student/Postdoc
250 USD
350 USD
International Faculty/Scientists
450 USD
550 USD
Listener (without oral/poster presentation)
3000 INR
4000 INR
* Registration fees amount include GST
Registration fee includes the following:
Publication of Abstract Booklet Online at MEMS, IIT Indore webpage.
Conference kits.
Lunch for each day of the conference.
Two coffee/tea breaks for each day of the conference
Participation certificate
Mode of Payment
Option1: UPI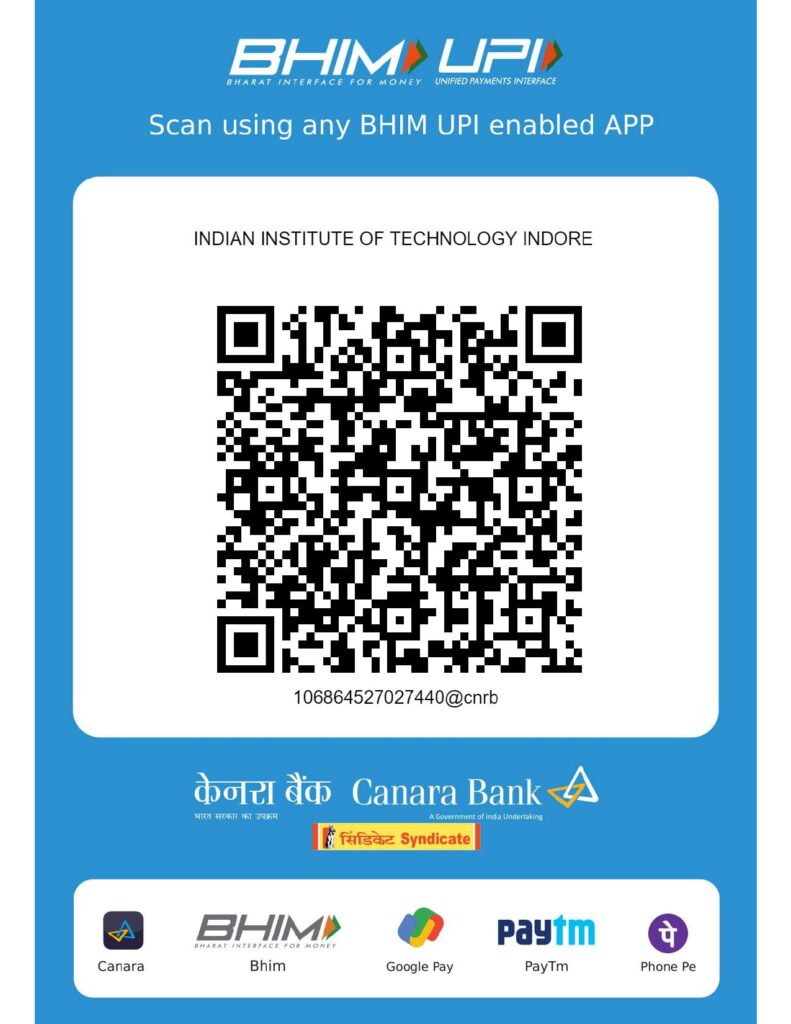 Option2: Via NEFT
Beneficiary Name : Registrar IIT Indore
Beneficiary Account No.: 1476101027440
Name of Bank: Canara Bank
Branch: Simrol IIT Branch
Bank IFS Code: CNRB0006223
SWIFT Code : CNRBINBBISG (International)
Option3: e-payment gateway (IIT Indore)
Payment can be made by choosing any one method A or B
A: Select link
Pay Through HDFC for Others Payments
Select: "registration fees for events"
Nature of Events: Workshop/conference
Amount: as per category of participant
Remark: ICFME-2022 Registration
B: Select link
Pay Through PayTM for New Students/Others
Select "Registration For Events"
Select: "Workshop/Conference"
Fill Title of The event: ICFME-2022 Registration